Love Love LOVE this!!
DAFFY'S PROVIDES PEEK INSIDE DRESSING ROOMS
FOR "FASHION'S NIGHT OUT"
Live Models To Disrobe Throughout The Night
In Daffy's "Undressing Room" At Herald Square
Flesh Is Flashed At The Whim Of Texters
Changing outfits at Daffy's will be a titillating public affair when the clothing retailer moves its dressing rooms front and center to the street-level windows of its Herald Square store, September 10, for "Fashion's Night Out."
For one night, models will disrobe throughout the evening, as they get into – and out of – the latest fall fashions from Daffy's. By introducing a variation of "sexting", Daffy's is inviting onlookers to text their choices of outfits for the two female and two male models to try on throughout the evening.
Every few minutes or so, the four models will take off their Daffy's clothing in plain view of passers-by, and put on a new outfit, as determined by the texting public. The "Fashion's Night Out" event will run from 6:00-11:00 p.m., Friday, September 10 at the Daffy's on 34th Street and Broadway.
In turn, the models will also communicate via text to those outside the store windows. A large screen inside the window will reveal the text messages sent and received by the models.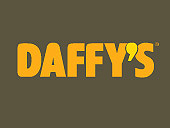 "Daffy's has always surprised its shoppers with fabulous bargains, so to help celebrate our industry's big night, we thought it appropriate to add a nice surprise to the typical changing room setup," said Will Bracker of Daffy's. "This provocative approach to our window display will enable texters, commuters and shoppers to have a great night out on 'Fashion's Night Out.'