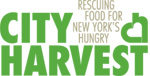 The Zipcar for Business team is partnering with City Harvest to raise awareness and gain your support.  On Friday, October 7st from 12pm – 1pm, lunch is on Zipcar and every business card they collect will become a $1 donation to City Harvest!
Go to Bryant Park at 42nd Street between 5th and 6th Avenue at lunch time and eat free lunch!  Please be sure to give them a business card as well, as it will be exchanged for the one dollar donation to City Harvest.  Your lunch will be a "Brown Paper Bag" that includes a sandwich and PopChips (yum!)
City Harvest is the world's first and New York City's only food rescue organization.  Zipcar aims to help City Harvest meet the surgeing need for emergency food – especially among hungry New Yorkers that continue to bear the brunt of this recession.
It's a win-win, people!  Enjoy!