In the seventh challenge of Volvo's Biggest Fan of the Big East, we bloggers are asked for our opinions in the Garden30 campaign: 10 Best Big East Basketball Moments of all time, 10 Best Big East Basketball Teams of all time and 10 Best Big East Basketball Players of all time.
For this post, I'll be doing some research ont he first two, but as for the players - my choices stand as they were in a previous post which can be found
here
and reiterated later.
As always, let's start out my post with a little thanks:
I want to say first and foremost that I would really appreciate any and all support you can provide for me and Rutgers over the next few months! It's really very simple to do this
[link windows open in new tab, so you won't lose this page]
:
Retweet my blog posts! Click HERE to follow me.
Visit my profile HERE to vote for me. Like, often. In fact, I dare you to bookmark it.
So now, here we go!
GARDEN30
- you can visit the official MSG Garden30 website
HERE
and make your own official votes, too!
10 Best Big East Basketball Players of All Time
As I said, this list won't be different from the ultimate Dream Team I made up in challenge #1. So here we go:
1. Patrick Ewing
Georgetown (1981-1985)
This seems like a no-brainer. At nearly 7 feet tall, this center [of gravity] is and was the biggest deal in basketball. During his time on the court, Ewing ended up with 2,184 points (off the court he probably scored big with the ladies, which is
definitely
worth something) and 1,316 rebounds. When I was born, he was named Rookie of the Year and Defensive Player of the Year (a title he held onto throughout his tenure at Georgetown). Over the next four years he would average 15 points and 9 rebounds per game, adding Co-Player of the Year for '84 and '85, First Team Consensus All-American for '83-'85, National AP Player of the Year in '85 and the NCAA Tournament's Most Outstanding Player in '84. SO outstanding even, that the New York Knicks took him with their first overall pick (Go, New York, Go New York, GO!) Perhaps of most significance for this particular challenge is that Ewing was nominated into the Basketball Hall of Fame and was the first Big East player to be inducted. BAM - He's my number 1!
2. Allen Iverson
Georgetown (1994-1996)
Part of the reason I'm even choosing AI is
for
the inevitable chitter-chatter that will come up. Any team without drama is not a team. This forward [thinker] did more in his two years than others did in four. Named Rookie of the Year in '95, Defensive Player of the Year in '95 and '96 and First Team Consensus All-American in '96, Iverson dominated the court as a Hoyas. During his two seasons, he racked up 1,539 points and was definitely on track to shatter the four-year-record of 2,632 (by Troy Bell) and his 213 steals were also on pace to break the conference's all-time steals record. He was the Philadelphia's 76ers first overall pick and has been in the NBA for the last 12 years. So where does the drama come in? Let's see here: In 1997, he was sopped for speeding and was arrested for carrying a concealed weapon and for possession of marijuana; in 2000, he recorded a rap album under his alter-ego 'Jewelz' that made derogatory remarks about the gays; in 2004, he peed in a trash can at at Bally's Casino in Atlantic City and was banned; in 2005, he won a hand at three-card poker at the Taj Mahal Casino (he LOVES him some Atlantic City) and was overpaid $10k in chips by accident. He got in a fight with the dealer when he wouldn't return the money; and now, apparently he is broke, loves to drink a lot and loves to gamble. Like I said, let's keep the press talking about my dream team - Iverson is still one of the best natural athletes ever.
3. Ray Allen
University of Connecticut (1993-1996)
At 6'6, Ray Allen scored an average 19 points per game while playing for UConn and received Player of the Year in '96. In his three years at the university, Allen totaled 1,922 points and 601 rebounds. He and my next pick (see below) were the only two players in Big East history to total over 1,000 conference points in a three year career. The third of five children, three year career, best three-point shooter in basketball history, three different NBA teams over his 12 seasons and...wait...for...it....my choice number three! Fun fact: He has borderline obsessive-compulsive disorder, which is borderline awesome.
4. Richard Hamilton
University of Connecticut (1996-1999)
Because I like a man who knows how to protect his most valued possession - his face. Hamilton won player of the year in '98, Co-Player of the Year in '99 and NCAA Tournament Most Outstanding Player in that same year. He's not flashy, he does what he's good at and he has the cajones to take the big shots. His overall conference points are the most any player with a three-year career in Big East history; He left for the NBA in his junior year and just finished his ninth season at the NBA, where he has been a three time all-star.
5. Kerry Kittles
Villanova (1992-1996)
Kittles is the anomaly of your average college-basketball-star-get-recruited-by-NBA. Sure, the 6'5 shooting guard did wonders while at Villanova and holds 15 all-time career records (including most points at 2,243 and most steals at 277) - but that's not all he was at Villanova. He was a member of a fraternity (Go Kappa Alpha Psi!) and earned an MBA at Villanova's School of Business. Since I don't know a hot-damn thing about numbers, money or business - Kittles is definitely going to be the business manager of my dream team, since his career ended so early and all. Perhaps the best thing about him (for me, anyway) is the length of time he spent in New Jersey.
6. Dwayne Washington
Syracuse (1983-1986)
It's Shake and Bake! Rookie of the year in '84? Pshhh... Second Team Consensus All-American in '85? Whatever.... Making the court look like a playground for inventive moves? Yes, please! Dwayne "Pearl" Washington is on my list to make the game look interesting. My man
still
holds the NCAA freshman record for when he had 18 assists against Providence. He left Syracuse his junior year with 1,484 points after being recruited by the New Jersey Nets. After playing with them for two seasons, he moved down to Miami. Sound like someone else's life?
7. Carmelo Anthony
Syracuse (2003)
Melo makes big changes in only one-year's time. Who
wouldn't
want this dude on their team? He attended Syracuse and let the Orangemen to their first National Championship in 2003. He earned the tournament's Most Outstanding Player award and was named the Most Valuable Player of the NCAA East. Tired of the color orange after just one year, Anthony entered the NBA and has since been named to the All-Rookie team, the All-Star team four times and to the All-NBA team four times. Other pros: I wouldn't get bored of looking at him since he's a cutie and he married a hot chick named LaLa. I mean, how cool is that?
8. Troy Murphy
Notre Dame (1988-2001)
Because it's time this Rutgers chick picks a white boy from North Jersey for her dream team. Troy Murphy led the Irish in scoring and rebounding in each of the three seasons he played. He averaged 21.8 points and 9.2 rebounds and was a consensus first-team All-American as a second and third year. He became the fifth player in Notre Dame history to score more than 2,000 career points and finished his career fifth on the all-time scoring list with 2,011 points. Moreover, he is one of only two players in conference history, along with Richard Hamilton [also on my dream team, bitches!] to total over 2,000 points in a three year career. He's also super tall and can probably help me reach for things too high in the kitchen cabinet.
9. Walter Berry
St. John's (1984-1986)
He only played two seasons, but what a "playa" he was. In that shore amoutn of time, he established himself as a superstar. Along with Patrick Ewing, my first pick, and Chris Mullin, my next pick, he was named a National Player of the Year. He got St. John's to the Final Four as a sophomore and averaged 17 points per game. In the two seasons he played, he amassed 1,424 points and 703 rebounds. Later in his career, he thought "Eff this - I'm outta here" and went to play professionally in Italy and Greece, where he could eat gelato and spanikopita to his heart's desire. Mama's gonna bring him back to the States for a little one-on-one, if you know what I mean.
10. Chris Mullin
St. John's (1981-1985)
I like trendsetters and his haircut. Along with Patrick Ewing, Chris is most responsible for making the basketball leagues have the power it has today. He's one of the best shooters in college history and won Player of the Year in '83, Co-Player of the Year in '84 and '85, Second Team Consensus All-American in '84, First Team Consensus All-American in '85, USBWA National Player of the Year, Wooden Award-National Player of the Year in '85 and UPI National Player of the Year in '85. He accomplished ALL THIS before I could even read good. In his career, he amassed 2,440 points and 1,290 points in conference play. Best part? Homeboy got all those points
before
the three-point shot was in the college game. Okay?! Looks like Wu-Tang isn't the only thing you can't eff with.
10 Best Big East Basketball Moments of All Time
1. UConn vs. Syracuse - Six OT - 2009
UConn and Syracuse played a quarterfinal game in the Big East tournament that went into six overtimes. The game lasted 3 hours and 46 minutes until finally, Syracuse defeated UConn 127-117 in front of 19,375 fans at MSG.
2. UConn vs. Pittsburgh - Kembla Walker's Game-Winning Shot - 2011
As the clock ran out, the star point guard used a crossover and shoulder roll to shuck his defender right to the ground, then stepped back and swished the winning basket at the buzzer, resulting in a 76-74 victory.
3. Seton Hall 74, Villanova 72 - 1991 Semifinals
For the second straight game, tournament MVP Ollie Taylor wins it at the buzzer, this time with a 15-footer to defeat Villanova. That sets up the Pirates' first appearance at the final, in which the Hall beats Georgetown a day later.
4. Ray Allen (UConn) vs. Allen Iverson (Georgetown) - Winning Shot - 1996
Ray Allen and the #3 UConn Huskies take on Allen Iverson and the #5 Georgetown Hoyas. Uconn overcomes a 13 point deficit with 3 minutes left by scoring the last 14 points of the game capped off by Ray Allen's only points on the second half in his no-look runner down the lane as he left his feet with no second option. Iverson then missed a fadeaway from the foul line and Jermone Williams misses the put back layup as Connecticut wins its 2nd of 6 Big East Tournament.
5. Da'Sean Butler (WVU) Wins Big East Title for the Mountaineers - 2010
Da'Sean Butler made several game-winning shots during this season, but the final game of the Big East in 2010, when he makes the final winning shot is as memorable as it is inspiring to watch.
6. St. John's 70, Syracuse 69 - 1986 Final
Walter Berry swats a game-winning shot by tournament MVP Dwayne Washington at the buzzer, delivering to St. John's and coach Lou Carnesecca their first championship. Ron Rowan's basline jumper with eight seconds left provided the Redmen with their only lead of the game.
7. Taliek Brown's 30-footer Beat-The-Clock - 2002
Taliek Brown launches a 30-footer to beat the shot clock with the Huskies clinging to a two-point lead in the second overtime.
8. Gerry McNamara - 2006 Season
Gerry McNamara seemed to own the tournament that year with a remarkable run to the championship for Syracuse. This year, he establishes a tournament record with 16 three-pointers, including five in a semifinal victory over Georgetown. He finishes with 16 points and four assists in the final as Syracuse edges Pittsburgh, 65-61, to become the third back-to-back champ in tournament history.
9. Georgetown 82, Syracuse 71 in OT - 1984
Patrick Ewing and the Hoyas outlast Dwayne Washington and Syracuse to claim the title on their road to becoming the first NCAA champion in Big East History.
10. Ewing. Mullin. Enough Said! - 1984
The two best players in league history play against one another four times, with Ewing's Hoyas prevailing in the Big Eat final and in the Final Four.
10 Best Big East Basketball Teams of All Time
1. Syracuse - 1987 - Coach Jim Boeheim
Record 30-7
NCAA Finish: National Runnerup; Lost to Indiana, 74-73
2. Seton Hall - 1989 - Coach P.J. Carlesimo
Record 31-7
NCAA Finish: National Runnerup; lost to Michigan, 80-79, in overtime
3. Georgetown - 1982 - Coach John Thompson Jr.
Record 30-7
NCAA Finish: National Runnerup; losing to North Carolina, 63-62, in the title game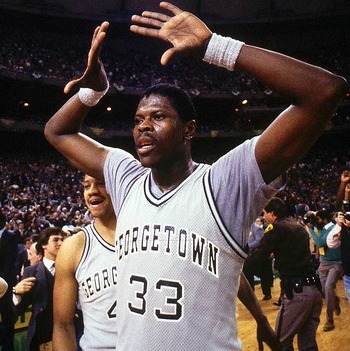 4. Syracuse - 2003 - Coach Jim Boeheim
Record 30-5
NCAA Finish: National champions; defeated Kansas, 81-78, in New Orleans
5. Villanova - 1985 - Coach Rollie Massimino
Record 25-10
NCAA Finish: National champions, defeated Georgetown, 66-64
6. St. John's - 1985 - Coach Lou Carnesecca
Record 31-4
NCAA Finish: National semifinals; lost to Georgetown, 77-59
7. Connecticut - 2004 - Coach Jim Calhoun
Record 33-6
NCAA Finish: National champions; defeated Georgia Tech, 82-73
8. Connecticut - 1999 - Coach Jim Calhoun
Record 34-2
NCAA Finish: National champions; defated Duke, 77-74
9. Georgetown - 1985 - Coach John Thompson Jr.
Record 35-3
NCAA Finish: NCAA Runnerup; lost to Villanova, 66-64, in the championship game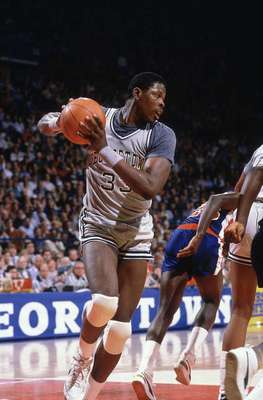 10. Georgetown - 1984 - Coach John Thompson Jr.
Record 34-3
NCAA Finish: National Champions; defeated Houston, 84-75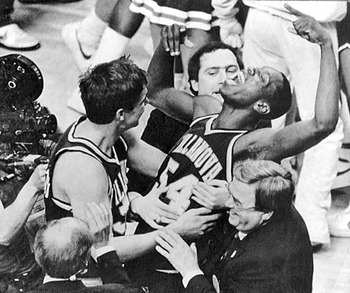 The Facts
Just so you all know, it does not escape me that Rutgers is not on ANY of these lists. In fact, I hang my head down in shame just a bit. BUT, this does not mean my love, adoration, FANaticism and PRIDE for my Alma Mater doesn't shine through!
Thank you again and in advance to VOLVO for sponsoring my trip to New Jersey next weekend to watch Rutgers play Syracuse on Feb. 19th! I'll be sporting the Volvo S60 the whole time and documenting my experiences - so stay tuned for that blogpost as well!